Ranchers try to coax frightened and injured cattle from an overturned semitrailer Thursday on West Yellowstone Highway near the Six Mile Road intersection in Casper, Wyo. A crash involving the truck and a pickup sent both drivers to the hospital. The semitrailer was hauling 71 head of cattle, but it was not immediately clear how many were killed.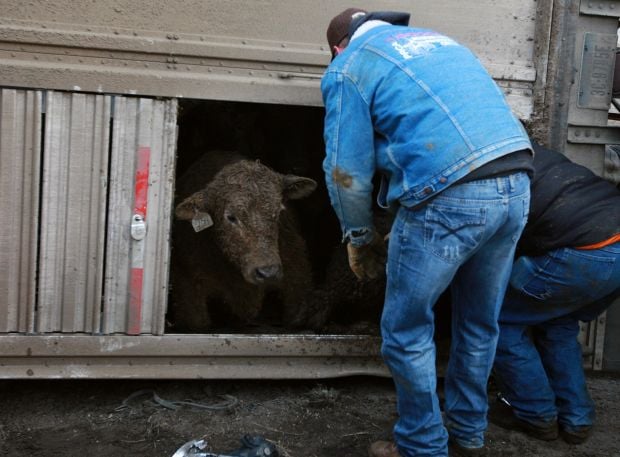 11 hours ago  •  By PATRICK SIMONAITIS Casper Star-Tribune
CASPER, Wyo. — A tractor-trailer carrying 71 cattle crashed into a pickup truck along West Yellowstone Highway on Thursday afternoon, seriously injuring two men and killing an unknown number of animals.
The two drivers were rushed to the emergency room from the scene, and their statuses weren't immediately available. They were likely "not in good shape," according to Wyoming Highway Patrol Trooper Joshua Hardee. Both of the drivers were men.
Authorities had yet to determine exactly how many cattle died in the 3 p.m. crash. As of 5 p.m., dead cows were being towed out of an opening that had been sawed into what was previously the top of the flipped semi-truck.
A number of living, agitated cows were led out of the truck and into awaiting trailers to be taken from the scene.
Immediately following the accident, the driver of the semi-truck, who had to be cut out of the cabin of the truck, told officers that he had seen a gold pickup truck coming from his left, according to Trooper Doug Beran.
The semi-truck was traveling east and appeared to have T-boned the pickup before running off onto the shoulder and flipping onto its side. The pickup, which was primarily hit on its passenger side, came to a rest upright roughly 15 yards in front of the semi. The impact left both of the vehicles mangled in the dirt to the south of the highway.
Along with law enforcement and emergency personnel from several local agencies, a number
of people with cattle trailers responded to the scene and assisted in moving the cows from the wreck and out
into their trailers, including people wearing "Casper College Rodeo" jackets.
Traffic moving in both directions along the highway was slowed, but neither lane was completely closed.
Hardee said it will likely take "a while" before clean up of the accident would be complete.