http://www.breedersworldsales.com/cgi-bin/mmdetails.cgi?hunker13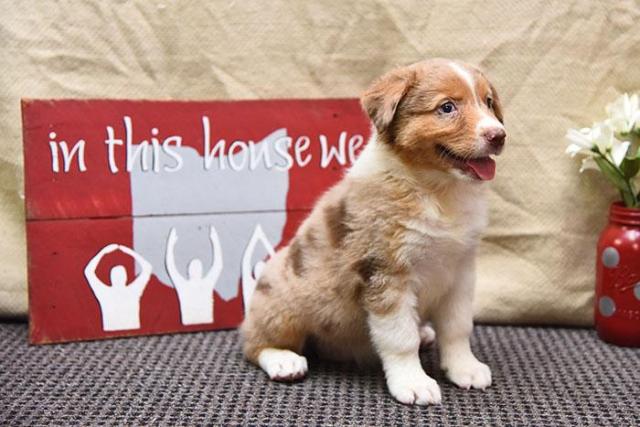 Lot 1
ID: Red Merle Female 1
Sex: Female
DOB: July 5th 2017
Sire: Levi (Richwood's Bacardi Party at Pix x Pix Memphis Belle) Red Tri weight 70 lbs
Reg.: AKC -18486701, CKC-AU04546609, ASCA-E154323
Dam: North Ridge Miss Cass ( Horse Cree's Coach No's Best x Diamond M Hide -N-Seek "Camo") Blue Merle weight 50 lbs
Reg: AKC – DN41582204
Breed: Australian Shepherd
Comments:

ATTENTION- This beautiful Tri color got the raw end of the deal. She is blind in her left eye and her right eye is not great. Can not guarantee she can see. She will need to go to an extra special home. 100% of the final bid on this darling will be donated to Make a Wish. Only bid on this one if you can give her the time and love she deserves. We know she can not stay here on the farm there are too many obstacles for her. She is a lover. She enjoys just sitting in your lap.