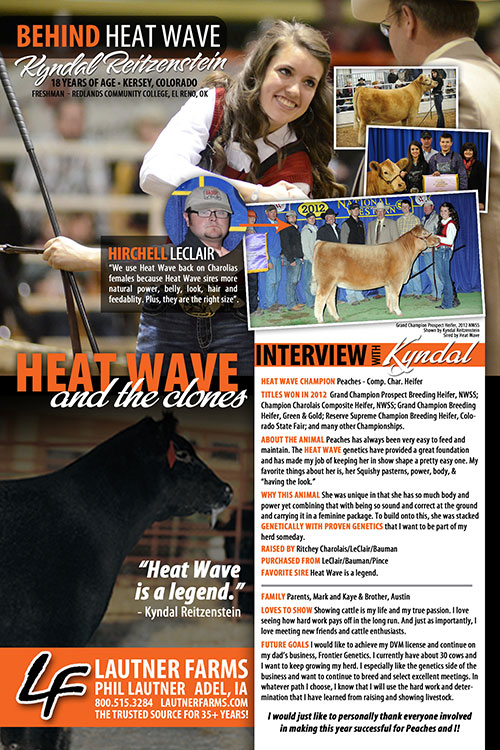 HEAT WAVE CHAMPIONS Peaches – Comp. Char. Heifer
TITLES WON IN 2012 Grand Champion Prospect Breeding Heifer, NWSS; Champion Charolais Composite Heifer, NWSS; Grand Champion Breeding Heifer, Green & Gold; Reserve Supreme Champion Breeding Heifer, Colorado State Fair; and many other Championships.
ABOUT THE ANIMAL Peaches has always been very easy to feed and maintain. The Heat Wave genetics have provided a great foundation and has made my job of keeping her in show shape a pretty easy one. My favorite things about her is, her Squishy pasterns, power, body, & "having the look."
WHY THIS ANIMAL She was unique in that she has so much body and power yet combining that with being so sound and correct at the ground and carrying it in a feminine package. To build onto this, she was stacked genetically with proven genetics that I want to be part of my herd someday.
RAISED BY Ritchey Charolais/LeClair/Bauman
PURCHASED FROM LeClair/Bauman/Pince
FAVORITE SIRE Heat Wave is a legend.
 FAMILY Parents, Mark and Kaye & Brother, Austin
LOVES TO SHOW Showing cattle is my life and my true passion. I love seeing how hard work pays off in the long run. And just as importantly, I love meeting new friends and cattle enthusiasts.
FUTURE GOALS I would like to achieve my DVM license and continue on my dad's business, Frontier Genetics. I currently have about 30 cows and I want to keep growing my herd. I especially like the genetics side of the business and want to continue to breed and select excellent meetings. In whatever path I choose, I know that I will use the hard work and determination that I have learned from raising and showing livestock.