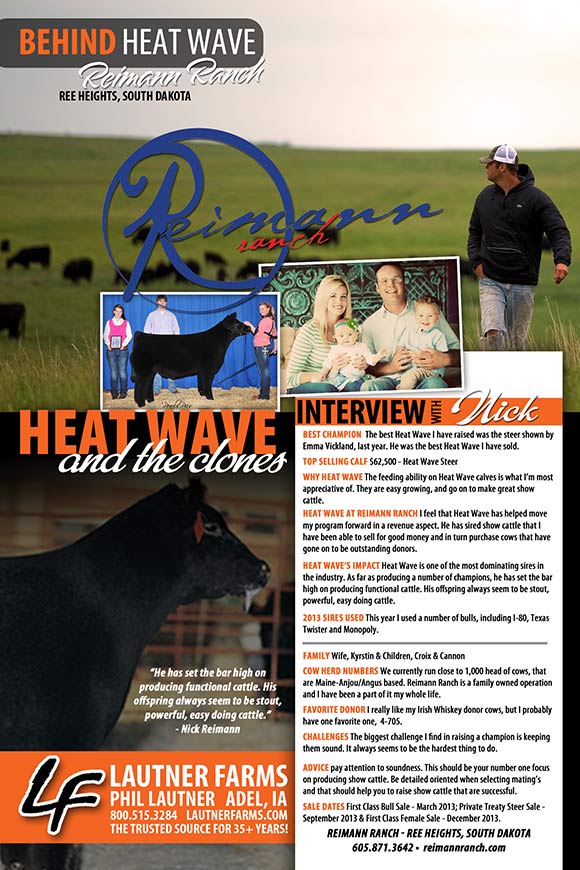 BEST CHAMPION The best Heat Wave I have raised was the steer shown by Emma Vickland, last year (2012). He was the best Heat Wave I have sold.
TOP SELLING CALF $62,500 – Heat Wave Steer
WHY HEAT WAVE The feeding ability on Heat Wave calves is what I'm most appreciative of. They are easy growing, and go on to make great show cattle.
HEAT WAVE AT REIMANN RANCH I feel that Heat Wave has helped move my program forward in a revenue aspect. He has sired show cattle that I have been able to sell for good money and in turn purchase cows that have gone on to be outstanding donors.
HEAT WAVE'S IMPACT Heat Wave is one of the most dominating sires in the industry. As far as producing a number of champions, he has set the bar high on producing functional cattle. His offspring always seem to be stout, powerful, easy doing cattle.
2013 SIRES USED This year I used a number of bulls, including I-80, Texas Twister and Monopoly.
FAMILY Wife, Kyrstin & Children, Croix & Cannon
COW HERD NUMBERS We currently run close to 1,000 head of cows, that are Maine-Anjou/Angus based. Reimann Ranch is a family owned operation and I have been a part of it my whole life.
FAVORITE DONOR I really like my Irish Whiskey donor cows, but I probably have one favorite one, 4-705.
CHALLENGES The biggest challenge I find in raising a champion is keeping them sound. It always seems to be the hardest thing to do.
ADVICE pay attention to soundness. This should be your number one focus on producing show cattle. Be detailed oriented when selecting mating's and that should help you to raise show cattle that are successful.
SALE DATES First Class Bull Sale – March 2013; Private Treaty Steer Sale – September 2013 & First Class Female Sale – December 2013.
Reimann Ranch – Ree Heights, South Dakota 605.871.3642 • reimannranch.com