This is one burger fit for Donald Trump.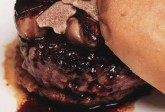 According to Meatingplace, the Los Angeles-based Umami Restaurant Group released its "Money's No Object" burger – M.N.O. for short – at three its locations in San Francisco, Los Angeles and New York locations as part of its annual truffle season promotion.
The limited-time burger, made with Bryan Flannery Wagyu Beef and topped with a port reduction and freshly shaved white truffles, sells for $65. In New York, the burger can be topped with foi gras for an extra $10.Read more.
LA (Calif.) Weekly notes that the burger is a variation of its truffle burger, priced at a more affordable $12.
As a bonus, The Daily Meal points that M.N.O diners willing to shell out the big bucks would also receive a shirt. Unfortunately for fans, truffle season will be ending soon and with it will mark the end of the popular promotion.