BLOOMFIELD — If you do fundraising in Iowa, don't underestimate the power of ag producers — of any age.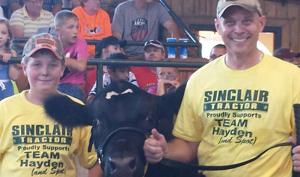 "When… 25 steers… entered the ring, first was the Governor's Steer, then the Lieutenant Governor's Steer and then, the Davis County Steer. The reason Davis County is next is because they've been involved since the very beginning, maybe 33 years ago," said Bob Sinclair, CEO of Sinclair Tractor. "In that time, they've raised $2.5 million for the Ronald McDonald House."
Sinclair, who was chosen to show the steer at the Governor's Charity Steer Show, said the big guy was donated by a group of Davis County cattle producers led by Ron Schooley. And they helped him find his partner in the venture: Hayden Watson, age 11, of Bloomfield.
"He got to experience the fair as … a celebrity. He was up there three days," said Sinclair. "On the first day, he had lunch with the governor. He had pictures with the governor, the lieutenant governor, Senator Joni Ernst …"
And, of course, the state secretary of agriculture. But Hayden chose different moments when asked which were the most memorable.
"The day I showed in the show ring, and the day I gave money to the Ronald McDonald House," he said.
"He named his steer Spot," said Sinclair. "As we were showing, they interviewed folks on the radio. Hayden got the mic and he told everybody how important Ronald McDonald House was to him and people like him."
"Ronald McDonald House is important to me because we used it when we went to Mayo Clinic after I was diagnosed with cancer," Hayden said. "It's as good as a hotel — maybe even better!"
Conditions were a little different at the Iowa State Fair. The Sinclair and Hayden team were housed in the cattle building. It seemed Hayden served as a good representative of southeast Iowa.The people around them found the 11-year-old Bloomfield resident to be polite and respectful. That wasn't an act.
"My parents raised me that way and I'm proud of it," the young man said.
Spot did pretty well, too. The Albia Vet Clinic contributed $16,500 to Ronald McDonald House when they won the auction for Spot. The CEO of Sinclair Tractor said he's certain Hayden and his family had a good time. But he enjoyed himself, too, and made a new friend.
"Hayden is the most positive kid I know, and" Sinclair said, "he is now cancer free."