(7) Baylor 72
(12-2, 0-1 Big 12)
(9) Iowa State 87
(14-0, 2-0 Big 12)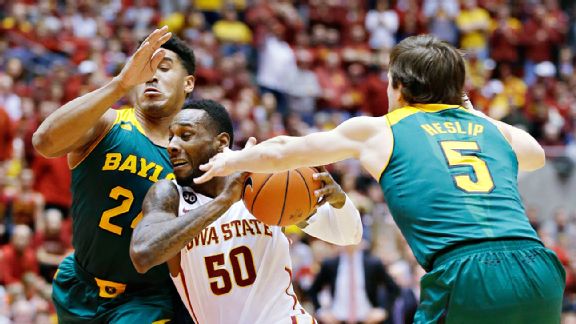 AMES, Iowa — DeAndre Kane had a season-high 30 points with nine assists, eight rebounds and five steals as No. 9 Iowa State rolled past No. 7 Baylor 87-72 on Tuesday night, setting a school record with its 14th straight win.
Melvin Ejim added 18 points for the Cyclones (14-0, 2-0 Big 12). They outscored Baylor 47-34 in the second half and rolled to a surprisingly decisive win over a fellow Big 12 title contender.
Kane had 17 points in the first half, helping his struggling teammates take a two-point lead. The rest of the Cyclones got untracked early in the second half and blew past the Bears with a 28-12 run.
Gary Franklin and Brady Heslip both had 15 points for Baylor (12-2, 0-1), which saw its win streak snapped at six games.
Baylor couldn't have asked for a tougher draw to open Big 12. The Cyclones had already beaten ranked teams Michigan and Iowa at home this season and entered play 39-3 in Ames since 2011-12.
The Bears hung around until early in the second half, when Iowa State slowly but surely overwhelmed yet another visitor.
The Cyclones pushed their lead to 63-51 as Kane, a senior transfer from Marshall, and Monte Morris answered what seemed like a momentum-killing 3 from Heslip with layups.
Taurean Prince was called for a flagrant foul on Kane with just under 10 minutes left. Kane hit both free throws, and Naz Long's 3 put Iowa State ahead 68-54.
This was the first matchup of top 10 teams in Ames in 13 years.
It could end up having a huge say in the Big 12 title race.