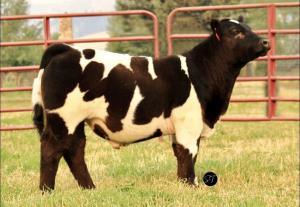 Category: Steer
Type: Club Calf/Prospect Show Steers
Tag/Tattoo: 1010
Breed: Char/Maine/Chi/Angus
Sire: Huff N Puff
Dam: ECC Kick Me I Am Irish 1010
Maternal Grand Sire: Irish Whiskey
Date Born: March 2021
Weight: 600 lbs
BW: 98 lbs
Video: Click here to view video
Description: This Huff N Puff steer is built with a tremendous amount of power and style with chrome from head to toe! Having depth of rib for days, this calf is good from all angles! Did I mention this guy puts the "G" in General! Great for a first time showman!