JANUARY 6, 2014
By: Steve Tonn, UNL Extension Educator
The cold blast we had in December makes us think there is more cold weather ahead. When feeding cows we need to consider the effect of weather conditions. Dr. Glenn Selk, Oklahoma State University Emeritus Extension Animal Scientist, offers these tips for feeding cows in cold weather. The major effect of cold on nutrient requirement of cows is increased need for energy. To determine magnitude of cold, lower critical temperature for beef cows must first be estimated. For cows with a dry winter hair coat the lower critical temperature is considered to be 32 degrees F. In general, researchers have used the rule of thumb that cows' energy requirements increase 1 percent for each degree the wind chill is below the 32 degree lower critical temperature. Therefore the calculation example for a cow with a winter dry hair coat would be: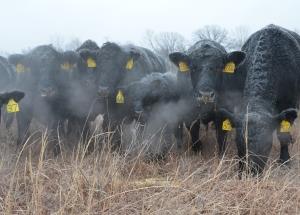 Step 1: Cow's lower critical temperature is 32 degrees F.
Step 2: Expected wind-chill from weather reports (let's use 4 degrees wind chill in this example)
Step 3: Calculate the magnitude of the cold: 32 degrees – 4 degrees = 28 degrees
Step 4: Energy adjustment is 1 percent for each degree magnitude of cold or 28 percent.
Step 5: Feed cows 128 percent of daily energy amount. (if a cow was to receive 16 pounds of high quality grass/legume hay; then feed 20.5 pounds of hay during the cold weather event).