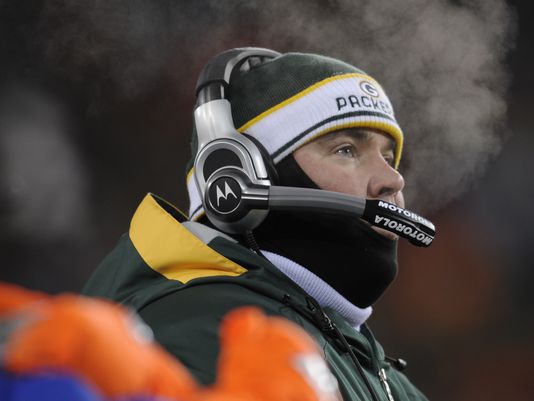 Green Bay head coach Mike McCarthy was bundled up for the NFC Championship game on Jan. 20, 2008 when the Packers lost to the Giants. On Sunday, the weather could be even colder at Lambeau Field.
(Photo: Robert Hanashiro, USA TODAY Sports
Kickoff is set for 4:40 p.m. Eastern. A wind chill warning goes into effect at 7.
"I think the only trick is prepare yourself mentally," said Packers receiver James Jones, one of seven other players on the active roster who were on the 2007 team.
PICKS: Making the call on Wild Card games?
"Tell yourself that it's going to be freezing, but you can't run now. They pay you to go out there – hot, cold – and you've got to go out there and do your job at a high level."
The equipment staff provides thermal gear, stocking caps, gloves and hand warmers. There are heaters under the field, on the sideline and in the benches.
"But when that wind starts blowing," kicker Mason Crosby said, "you can't get away from it."