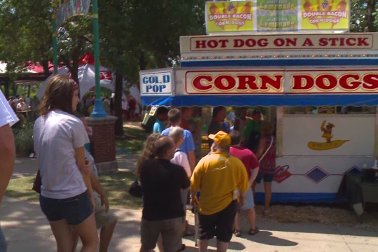 DES MOINES, Iowa —From barbecue to corn dogs to peanut butter and jelly on a stick, the Iowa State Fair is all about food.
State Fair spokesperson Lori Chappell said a letter has just been sent to thousands of state fair vendors. John Hartney, who owns Hoppy's lemonade stand, just heard about the new ticket system.
"I think it's a bad idea," Hartney said.
Instead of using cash, customers will have to buy tickets either in advance or inside the fairgrounds.
"We'll have no less than 150 locations throughout the fairgrounds where you can buy these tickets," Chappell said.
But Hartney said his customers will be inconvenienced.
"One person is going to have to carry a fistful," Hartney said. "If they have five kids, they're going to have to be carrying a fistful of tickets around."
Hartney said his suppliers want cash right away.
"Oh, it's going to be bad," he said. "Our vendors we have to pay, they don't want to wait for their money."
But Iowa State Fair officials said tickets will be more secure and convenient.
"There won't be any change that will be made," Chappell said. "So hopefully a much easier transaction for the fairgoer and the vendor as well."
Fairgoers said they didn't like the idea of tickets.
"I'd prefer cash, to use my own money, so I know how much I'm spending," Derek Roberts said.
"It's not really that great of an idea," Matt Stephens said. "It's a lot easier to pay cash for everything."
It will be something to get used to. Instead of a $4 corn dog, customers will be buying an eight-ticket corn dog.
"As we make this transition, I expect your prices to be held at the 2013 amounts," Mike Nye, concessions and commercial exhibits director, said in the letter.
If customers don't use all the tickets they bought, they can't get their money back.
However, the tickets are good for every day of the fair and every year of the fair, organizers said.
What do you think of the changes?  Add your comments in the box below or on the KCCI Facebook page.