Angela Bowman  |  Updated: 02/07/2014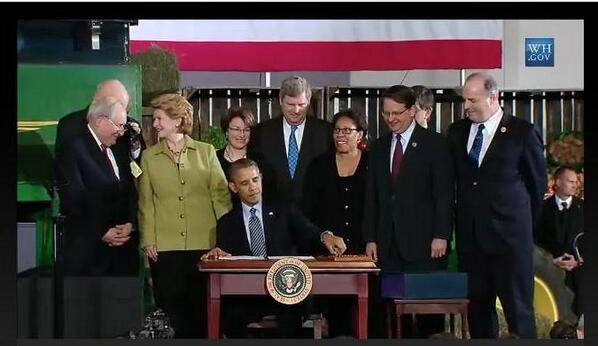 On Friday, President Barack Obama headed to Michigan State University in East Lansing, Mich., to sign the $956 billion farm bill.  The bill trims food stamps, expands federal crop insurance, ends direct payments, provides better safety net for dairy and retains Country-of-Origin Labeling. Read more about the farm bill provisions here.
At the signing, Obama compared the farm bill to a Swiss army knife because "it multitasks. It creates more good jobs & gives more Americans a shot at opportunity"
"It doesn't include everything I'd like, but it's a good sign that Democrats and Republicans of Congress were able to come together […] to get stuff done," he said.
Obama made similar remarks earlier this week.
"As with any compromise, the Farm Bill isn't perfect – but on the whole, it will make a positive difference not only for the rural economies that grow America's food, but for our nation," he said in a statement.
The House of Representatives passed the legislation by a wide margin last week, and on Tuesday, the Senate voted 68 to 32 to pass the bill.
Obama is also working through the White House Rural Council to lead a new "made in Rural America" export and investment initiative. Click here to learn more.
Several groups have come forward to thank Obama for signing the farm bill, including the National Corn Growers Association (NCGA).
"This new five-year farm bill means certainty and stability for farmers. It means food on the table for hungry families. And it means taxpayers will save money," NCGA President Martin Barbre said in a news release. "We thank President Obama for signing this important legislation and we stand ready to work with the Administration and communicate the value of this new law for our growers and those they help feed and fuel. Because of its very topic – food and the farms that provide it – this is one of the most important pieces of legislation Congress has passed in some time."
Politicians also praised the bill.
"I am pleased we have a new farm bill in place to provide certainty for the next five years to America's farmers, ranchers, and consumers, and I appreciate the efforts of everyone who helped make it possible," said House Agriculture Committee Chairman Frank Lucas, R-Okla.