This week our sires took over the internet, being called the hottest Social Media Sensation.
We are excited to offer outstanding sire line up that is recognized all over the the world by all walks of life. Be sure to check out the Yahoo news video feature below.
As always we are shipping and delivering semen, place your order today!
LAUTNER FARMS – Home of the Fluffy Cows!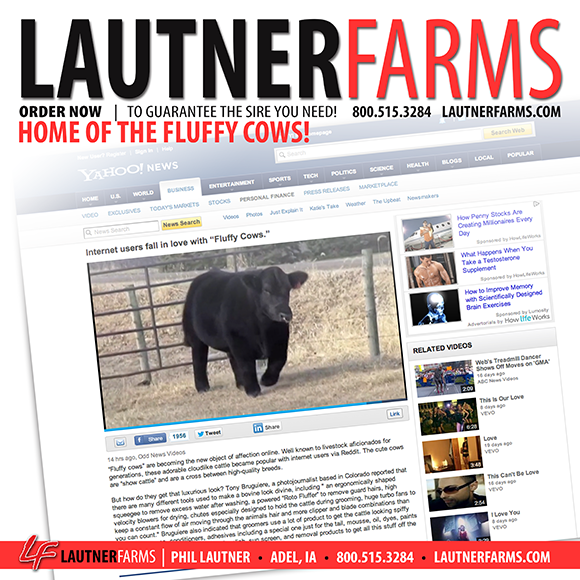 "Fluffy cows" are becoming the new object of affection online. Well known to livestock aficionados for generations, these adorable cloudlike cattle became popular with internet users via Reddit. The cute cows are "show cattle" and are a cross between high-quality breeds.
But how do they get that luxurious look? Tony Bruguiere, a photojournalist based in Colorado reported that there are many different tools used to make a bovine look divine, including " an ergonomically shaped squeegee to remove excess water after washing, a powered "Roto Fluffer" to remove guard hairs, high velocity blowers for drying, chutes especially designed to hold the cattle during grooming, huge turbo fans to keep a constant flow of air moving through the animals hair and more clipper and blade combinations than you can count." Bruguiere also indicated that groomers use a lot of product to get the cattle looking spiffy listing "shampoos, conditioners, adhesives including a special one just for the tail, mousse, oil, dyes, paints in six different shades, hair builder, hair polish, sun screen, and removal products to get all this stuff off the hair."