University of Wisconsin – Cooperative Extension  |  Updated: 01/20/2014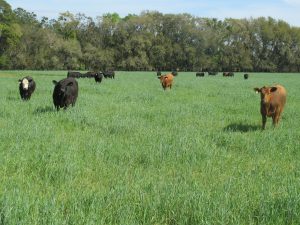 Beef producers who choose to manage their pastures by rotating cattle through paddocks have control over when they start grazing in spring.  When to start grazing varies between years, where in Wisconsin you are located, and from producer to producer.  Pasture research from the Dairy Forage Research Center here in Wisconsin demonstrates that if we turn cows loose when grass is 4" tall in spring versus waiting until we're closer to a 12" level, reduces the total seasonal yield of that paddock by a quarter ton of forage. With current hay market prices in $100-120/ton for beef hay, we're losing $25-30/acre in lower forage production from turning out too early, either in fewer days grazing or lower stocking rates.
When pastures get to a 12" height is influenced by location, what species are present in your pasture, and how you managed your pastures the previous fall.  Fall is the season when grasses are developing buds for next spring.  If we grazed tight and forced cattle to "clean up the pasture" down to a 1.5" or less of grass in fall, we may be grazing next spring's dormant buds.  This will delay the average 12" date by about two weeks (May 11th rather than April 28th) in southern Wisconsin. That's an additional quarter ton of feed we will need to supply or fewer head our pasture can carry.
Life begins at 40. Pasture forage uses nitrogen from decomposition of soil organic matter as a result of soil biology.  Soil biology does not "wake up" until around 41F and increases with rising soil temperatures.  A strategic application of nitrogen (N) early in the spring before soil N is widely available can stimulate additional grass growth in some situations.  How do we decide?  READ MORE