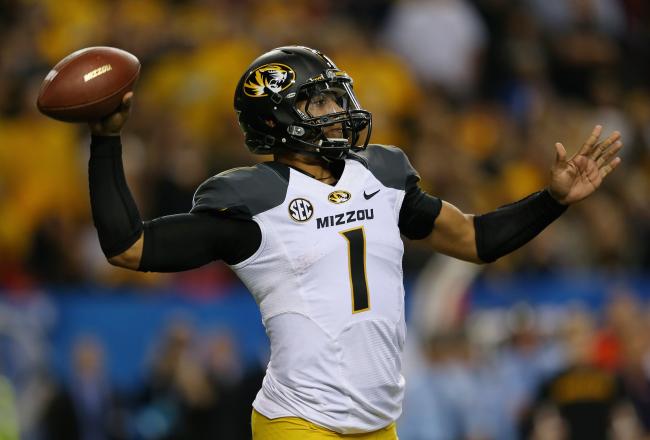 In case you didn't know, Friday's AT&T Cotton Bowl matchup between No. 8 Missouri (11-2, 7-1 SEC) and 13th-ranked Oklahoma State (10-2, 7-2 Big 12) is a bit of a reunion.
Oklahoma State, proud members of the Big 12, will meet their old brothers who jumped ship for the SEC in 2012.
While a big deal has been made of Friday's meeting and its backstory, Missouri defensive end Michael Sam isn't moved by it. He's actually bored of it.
"I don't really care," Sam said. "We used to be in the Big 12; we're not any more. I think the media is blowing it way out of proportion. I could care less."
Sam might be on to something, but it is pretty cool when you think about the last two Cotton Bowls. This year, it's Mizzou-Oklahoma State. Last year, it was Texas A&M-Oklahoma.
Rematches of games that once had conference stakes on the line now feature bragging rights and even traitor talk in some circles. There are even whispers in Big 12 country that the Tigers ran away from their old league.
So while Sam might not care about the old Big 12 matchup, it does create an interesting storyline, and he'd be crazy to think that no one else in this game isn't intrigued by that aspect of the game.
"It is just a great opportunity to play a great Missouri team; they were in the Big 12, so it is a little rivalry there," Oklahoma State wide receiver Charlie Moore said. "You always want to play the best and always fun to play the SEC. It is going to be a good game no matter what conference they are in and it is fun to be in the Cotton Bowl." READ MORE