Esther the pig is 500 pound house pet
Unsuspecting couple's pet 'mini pig' turns out to be commercial pig
Esther doesn't leave much room on the couch for other members of the family.
Arin Greenwood, The Huffington Post | May 22, 2014
Derek Walter and Steve Jenkins used to have fairly ordinary lives before a 530-pound pig named Esther moved into their house.
Walter is a real estate agent and bagpipe player; Jenkins is a professional magician. They're in the suburbs about 45 minutes outside Toronto, living in a 1,000-square foot house with a modest yard; it's perfect for keeping their two cats and two rescue dogs.
Until two years ago, they ate a lot of bacon.
"We were pretty typical people," says Jenkins. "We were two totally normal, meat-eating omnivores who because of a Facebook message from a high school friend met and fell in love with a pig that changed our lives."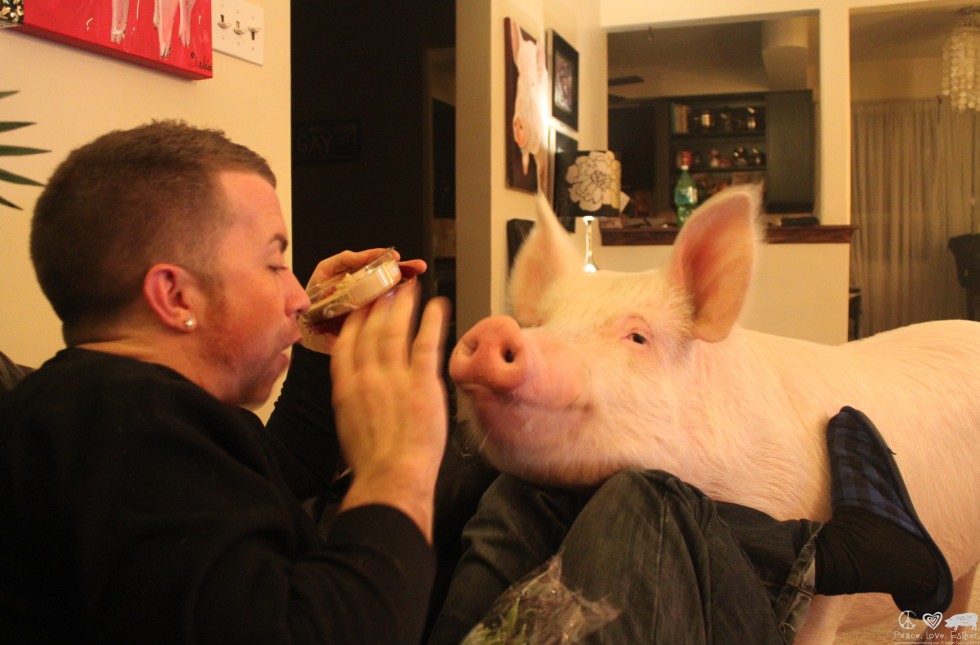 The message came, at the end of the summer of 2012, from a high school friend whom Jenkins hadn't seen in more than a decade. She said she had a "mini-pig but it was causing chaos at home," he says. "She had newborn twins and a dog that was not accepting the pig at all so it had to go. She said she remembered I was always an animal lover so I came to mind as someone who might be able to help."
He was. Within a couple of days, and without the immediate consent of his partner, Jenkins had brought home the supposedly six-month-old animal, who wasn't supposed to get to be more than about 70 pounds.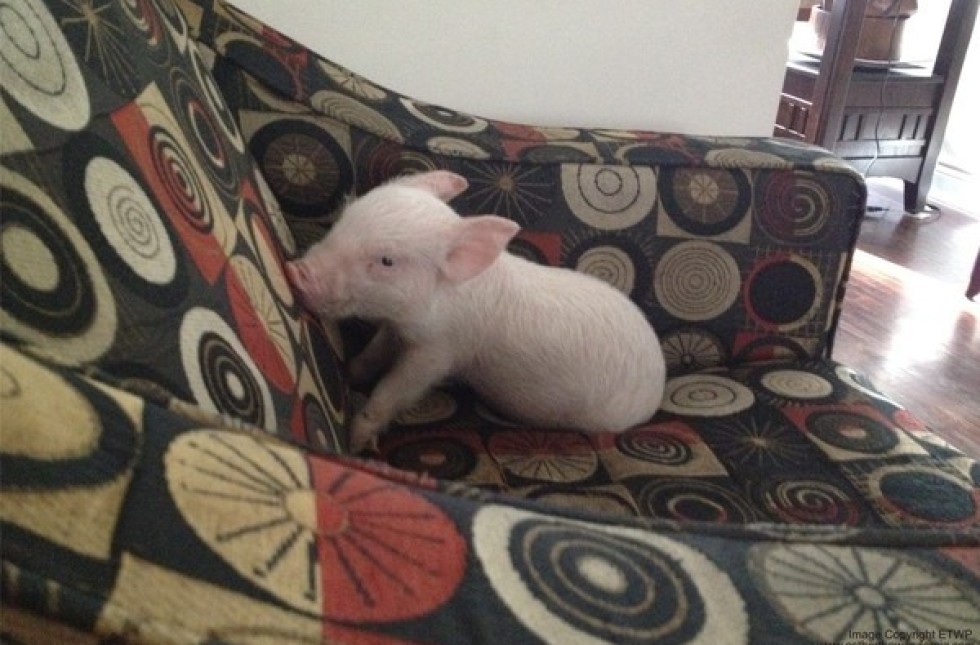 "Our vet raised concerns the first time he met her. He noticed her cropped tail and said it was a clear sign she was actually a commercial pig, not a pet at all. We were terrified but we had already fallen in love with her," says Jenkins. "We decided to wait and see what happened. But the longer we had her, the more we loved her — and, unfortunately, the bigger she got."
Within about eight months Esther was near 170 pounds. As of last week, she weighed in at over a quarter ton — and Jenkins and Walter aren't sure if their beloved, alreadymassive pink girl is done growing or not.
Of course as she's gotten physically bigger, this unexpectedly huge house pet's role in the couple's lives has also expanded. Inspired by Esther, they've stopped eating meat, and have become animal welfare advocates. (Their "Esther the Wonder Pig" Facebook page, where they do some of this advocacy — as well as share "Esther-approved" vegan recipes and videos of Esther doing things like getting a bath — has almost 140,000 likes.)
Closer to home — or, rather, literally inside the home — they had to make some other changes.
"All food is in upper cabinets, doors locked, etc.," says Jenkins. "She loves to wrestle and play with toys, she comes to cuddle and loves to get belly rubs. She is very much like a big dog, just super smart. Smart enough to open closed doors and cupboards. It's amazing."
It's also amazing to see what Esther looks like on the family's couch: