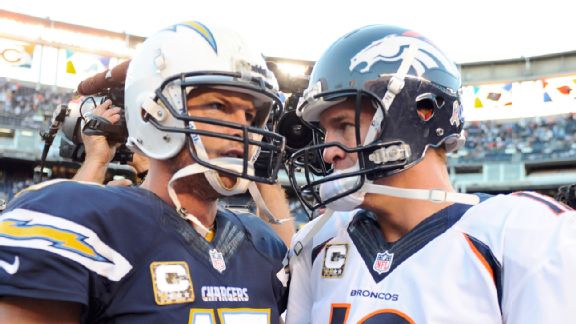 When the 2013 season began, the AFC West didn't really come up when the national conversation turned toward divisions that would provide the most playoff teams or Super Bowl potential from top to bottom.
Yet with four teams left in the AFC's postseason bracket, two of them call the division home, with the No. 1 seed Denver Broncos and the No. 6 San Diego Chargers set for the season's third meeting on Sunday. They split the two games in the regular season, with each team winning on the road — the Broncos by eight in San Diego and the Chargers by seven in Denver.
It will be the first time the Chargers and Broncos have met in the postseason, but San Diego is 2-0 in playoff games against Broncos quarterback Peyton Manning with wins in the 2007 and 2008 seasons.