By ALAN SNEL
LAS VEGAS REVIEW-JOURNAL
Legendary cowboy Trevor Brazile enters the arena for the first go around during the National Finals Rodeo at the Thomas and Mack Center in Las Vegas on Dec. 2, 2010. (JASON BEAN/LAS VEGAS REVIEW-JOURNAL)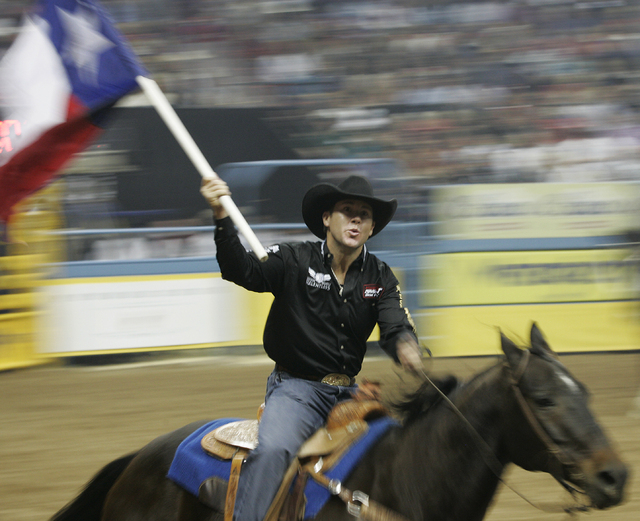 Professional rodeo's most prominent cowboys say they are defecting from the Professional Rodeo Cowboys Association to form their own organization, but they are coy about their views on the future of the National Finals Rodeo or any other major rodeo event in Las Vegas.
The biggest names in rodeo led by 11-time world all-around champion Trevor Brazile — the LeBron James of the rodeo world — signed a statement posted on Facebook this week saying it's time for the sport's top contestants to be directly involved in the sport's future.
One of the organizers, steer wrestler K.C. Jones, on Tuesday confirmed the efforts to leave the PRCA and start a different rodeo cowboy organization.
"It's an exciting time for professional rodeo," Jones told the Review-Journal. He noted cowboys are already talking with rodeo committees and venues about events outside of Colorado Springs, Colo.-based PRCA, the sport's governing body.
Charly Crawford, a seven-time qualifier in the NFR's team roping category, said the motivation behind the efforts is that the sport's top cowboys want a bigger voice in the PRCA's decision-making process. Crawford said the NFR draws the top 120 cowboys, but their voices are not heard at the PRCA board meetings. Overall, there were 5,071 PRCA contestant card holders in 2013.
Crawford also said a concern is big rodeos such as Calgary and Houston are breaking away from PRCA's governance.
And with the PRCA flirting with moving the NFR — the sport's Super Bowl — to Osceola County in Central Florida starting in 2015, Las Vegas might be another city that starts its own major rodeo event outside of the PRCA banner.
"It started a trend now. It's a big concern for us," Crawford said of rodeo cities starting non-PRCA sanctioned events. Crawford said talk of the sport's biggest stars participating in an independent Las Vegas rodeo if the PRCA moves the NFR to Osceola County has surfaced.  READ MORE