Boy born with heart defect is granted a wish to meet saddle bronc riders
February 06, 2014 6:30 am  •  Jennifer Naylor Gesick Journal staff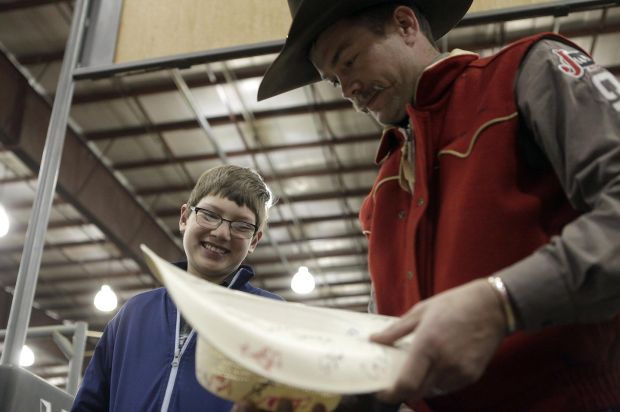 Tucker Varns, 15, of Spearfish, gets a cowboy hat signed Wednesday night by saddle bronc rider Cody DeMoss at James Kjerstad Events Center before the Black Hills Stock Show & Rodeo Saddle Bronc Match. Varns has had multiple surgeries to repair a heart value defect and came to the rodeo Wednesday through the Children's Western Wish Foundation.
The saddle bronc rider rode up to 15-year-old Tucker Varns on Wednesday at the Black Hills Stock Show and Rodeo and asked if he wanted to ride one of the horses.
Normally, that would be a routine offer to a young man who dreams of being a cowboy. But Tucker walked over to consult his mom.
"He asked if I was ready to ride tonight," he told her.
His mother, Dixie Varns, just looked shocked.
"Mom, go outside," he joked. Dixie laughed.
Most teenagers at the Stock Show can take riding for granted. Tucker can't.
Riding a rodeo horse can be dangerous for the Spearfish boy. He was born with a congenital heart defect — he was missing a left ventricle — that makes it extremely risky to participate in contact sports or exert himself too much.