By David Schoenfield | ESPN.com
SAN FRANCISCO — Kansas City Royals outfielder Jarrod Dyson has the confidence of a heavyweight prizefighter, a gunslinging Brett Favre of words.
When asked about the Royals becoming America's team, Dyson was quick to downplay the enthusiasm for his club: "We don't need no bandwagoners now," he said on Thursday's off day before Game 3. "But I guess we picked up some fans along the way."
With that kind of confidence — Dyson also enjoyed talking about his 39½-inch vertical leap he put on display last Friday when he dunked during an NBA exhibition game that took place in Kansas City — it shouldn't be a surprise that Dyson isn't exactly awed by the quirky dimensions in right field at San Francisco's AT&T Park.
"It's a big ballpark, but we got a big ballpark as well," he said. "They just got that right-center over there that's kind of tricky. … If the ball's hit to right-center everybody knows they have to go get the ball and back each other up. And we do a great job of backing each other up even when the play is made."
It's that large space of grass out there, however, that could get Dyson his first start since Sept. 20. Ned Yost has gone with the same starting lineup 17 games in a row, but he's already going to be without designated hitter Billy Butler, and as I speculated earlier, it makes sense to start Dyson in center and Lorenzo Cain in right to give the Royals their best outfield defense in Games 3 and 4, especially with fly ballers Jeremy Guthrie and Jason Vargas starting.
Yost wouldn't reveal his lineup yet, but hinted a change was possible. "We're looking at all of our options, and that's the reason for it," Yost said. "Guthrie and Vargy are both fly ball pitchers in a big yard with some weird angles, so we're looking at all of our options." He also indicated Nori Aoki is the better pinch-hitting option than Dyson, which is kind of a strange reason not to start him, but at least it would get Dyson out there.
With that 421-foot angle in deep right-center that creates some odd rebounds in mind, Dyson was one of the Kansas City outfielders working with outfield coach Rusty Kuntz during Thursday's practice session. "Rusty just took me out there and hit me some balls and let me know 'Be careful,' there's a lot of sand out there on the warning track," Dyson said.
He said he's ready for the possible start, even if his plate appearances have been limited over the past month. "I prepare myself to start every day I show up here," he said. Yost doesn't alert players if they're going to start; he'll just post the lineup card. "He expects us to have our bodies ready to play," Dyson said.
* * * *
The Gold Glove finalists were announced Thursday, three players for each position in each league. While four Royals were finalists — three-time winner Alex Gordon in left, reigning winnerSalvador Perez at catcher, shortstop Alcides Escobar and first baseman Eric Hosmer — conspicuous by his absence was Cain, who has showcased his phenomenal glove work all postseason.
[+] Enlarge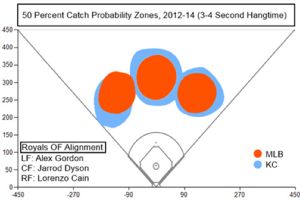 ESPN Stats & InformationThe value of the Royals' outfield defense
Cain was fourth among all outfielders with 24 defensive runs saved, trailing only Jason Heyward (32), Juan Lagares(28) and Gordon (27). So even though a sabermetric evaluation accounts for 25 percent of the vote (the managers and coaches account for the other 75 percent), Cain was left out, perhaps because he split his time between center (723 innings) and right (388 innings).
"I found out when I got here," Cain said. "Whoever's voting, that's fine, they didn't think I was deserving, so I say just move on from it. All I'm worrying about is winning the World Series."
Cain is a great story beyond the defense he's played in October. He didn't play much baseball until he was 14, wasn't drafted until the 17th round by the Brewers in 2004 and while he made his debut in the majors with Milwaukee in 2010, he didn't establish himself as a regular until last season and this was the first year he's had 500 plate appearances. He seems like a new kid on the block but he's 28, a player who has grinded out his baseball career through a lot of minor league games and a few injuries.
"I was just doing it for fun at first," he said of picking up the game as a teenager. "I didn't really think anything serious of it at first but as I learned more and grew as a player I took the game more serious over time. I credit a lot people, especially God and my mom, my family, all the coaches I've worked with. It's definitely been an uphill battle, but I stayed determined to become a good ballplayer."
Cain came to the Royals after the 2010 season, along with Escobar and Jake Odorizzi (who went to Tampa in the James Shields trade), in the Zack Greinke trade. Even though he was a key component in the trade and hit .307 between Double-A and Triple-A in 2010, the Royals were patient not to rush him and he spent almost all of 2011 at Triple-A Omaha, where he hit .312 with 16 home runs.
Then three different leg injuries wiped out most of 2012. It was a bumpy road to get here.
"Defense was something I felt I was always pretty decent at," he said. "The biggest obstacle for me was swinging the bat, trying to become a lot more consistent."
As for AT&T Park, Cain also alluded to the warning track. "Gotta be on your toes. Even the warning track is soft. It's kind of like beach sand out there."
* * * *
"Best I've ever seen, best I've ever seen," Royals veteran Raul Ibanez said of his outfield teammates. "Not just the best in covering ground and making plays, but the most disciplined in throwing the ball to bases. Rusty Kuntz is the best outfield coach I've ever seen. He teaches these guys, he stays on top of these things. I call it they never chase the rabbit down the rabbit hole. Guys going first to third, as an outfielder you always think you can throw that guy out, the competitiveness takes over, but the right play is usually to keep the double play in order."
Ibanez's eyes lit up as he talked about these guys. "I want them to experience [the World Series] for them," he said. "You'll never look at a regular-season game the same again," alluding not only to the magic and the intensity of the postseason but how the grind of the regular season is necessary to get to this point.
Even though he's not on the active roster, Ibanez is going for his first World Series ring as well, having fallen short with the Phillies in 2009. If he's to get one, that outfield defense will have played a big role.