Exceptional Sweet Baby James heifer!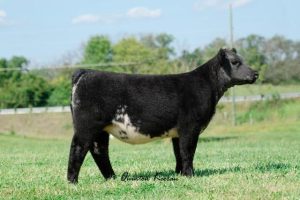 Sex: Heifer
Ear Tag: 3
Sire:

Sweet Baby James
Dam: U-Turn / Double Vision
Breed: Crossbred
Registration Papers: No
D.O.B: March
Video: Click here for video
Comments: The first calf from our Champion Prospect Heifer at the 2015 Ohio State Fair. If this blue roan heifer is just a taste of what's to come from that cow, we're all in! It's tough to put much more middle in one than Tag 3 carries naturally. Just like her mother, she's moderate framed, easy-fleshing, sound and docile. Lots of opportunity here.