Smackdown was the high-marked bull in Chicago last year. Photo by Andy Watson / BullStockMedia.com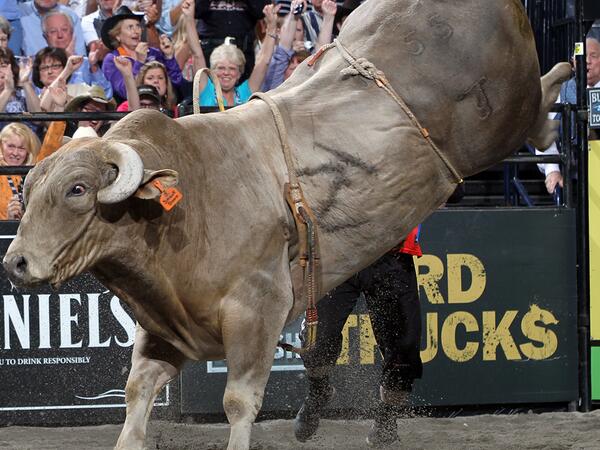 CHICAGO ― Everyone knows what kind of effect extreme cold weather has on outdoor sports. Although most PBR events are held indoors, the recent cold is having a huge effect behind the scenes. Some of the bulls are heading to Chicago from New York, and others are coming from North Dakota, and it has been extremely cold everywhere.
PBR Livestock Director Cody Lambert expects the cold weather to break somewhat in time for the Chicago Invitational on Saturday.
"Chicago is looking up," said Lambert. "It's going to get warmer every day between now and Saturday. It was very cold in New York last week, and you can't expect bulls to have their best day bucking under those conditions. It's not the cold weather as much as it is how the bulls deal with it. They fight off the cold by eating and drinking. Just like humans, when they are full from all that food and water, they're naturally going to be a little sluggish. There's no way around it. They have to be fed more when the weather is cold." READ MORE
Smackdown throws Joao Ricardo Vieira in 5.58 seconds earning a bull score of 46.25 points in the championship round of the 2013 PBR BFTS Ariat Invitational in Oakland, Calif
.