NEW ORLEANS — Hello, Trevor. Farewell, AJ.
Trevor Knight's final start as a freshman sent Oklahoma's expectations soaring into 2014 while bringing a sour end to AJ McCarron's otherwise-charmed Alabama career.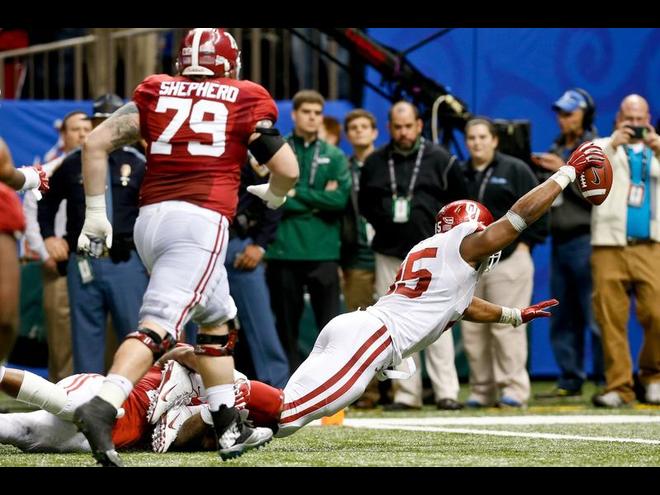 Knight completed a Sugar Bowl-record 32 passes for 348 yards and four touchdowns, and No. 11 Oklahoma took down the third-ranked Crimson Tide 45-31 on Thursday night.
More from ESPN.com
TrotterWith a dominant win over Alabama, Oklahoma and its young quarterback proved the Sooners are back and here to stay, Jake Trotter writes. Blog
AschoffIt wasn't a matter of Bama not being motivated, and it wasn't for lack of talent. Alabama was just outdone at its own game, Edward Aschoff writes. Blog
• Grantland: Saban's worst nightmare
• Stats & Info: Sooners score big upset
• Recruit & return: Bama Insider | OU Insider
• Sugar Bowl Index
"It's huge for our program, to get a win like this after no one gave us a chance all year," Knight said. "We've got to ride this into next year. We can't settle with this. … We want the big one."
Oklahoma coach Bob Stoops had declined to announce a starting quarterback before the Allstate Sugar Bowl, and when Knight took the field on the Sooners' first possession, Alabama's defenders couldn't have anticipated what was in store.
Knight's completion percentage entering the game was 52.2. He had completed 47 passes all season before a breakout performance in which two of his TDs went for more than 40 yards.
Oklahoma (11-2) needed him to play that well in the 80th Sugar Bowl, the first in which the quarterbacks for both teams threw for more than 300 yards.