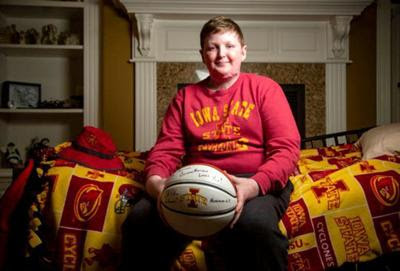 OELWEIN, Iowa — One morning while getting ready for school, Michael McDonough felt a few unfamiliar bumps in his mouth.
He told his dad, Ken McDonough, a Dubuque native, and then headed out the door.
But that evening when his grandma picked him up, his face was completely swollen.
Ken urgently flipped through a book he often used as a resource at his veterinary clinic in Oelwein. He determined the medicine Michael was on for epilepsy had caused Stevens-Johnson syndrome.
Michael was taken to Mayo Clinic in Rochester, Minn., and later was airlifted to Regions Hospital in St. Paul, Minn.
"He ended up losing 90% of the top layer of his skin," said Michael's mom, Amy McDonough. "He was constantly going back to the (operating room) for allografting."
Ken's theory was right. The burns and spreading blisters were a reaction to one medication. Michael was diagnosed with Stevens-Johnson syndrome, a rare disorder that causes flu-like symptoms, blisters and a rash.
Michael has been in and out of hospitals throughout the Midwest and across the country undergoing countless procedures. Many times, doctors prepared Michael's family for the worst, but he pulled through every time.
Every day became a fight for his life, and after months of pain and bad news, Michael was depressed. His family begged him to keep fighting and reminded him of his dream of showing cattle around the state.
"Since he was like 6 years old, (Michael) has been calling different cattle breeders throughout our country," Amy said. "He was calling and asking about their cattle."
After a long fight, Michael's greatest wish is coming true.
Michael, 15, now out of the hospital and recovering, was chosen as Dubuque's Make-A-Wish Iowa recipient and was presented with a new 24-foot cattle trailer at a local gala Saturday evening.
According to the organization, Michael's wish is the 4,000th one granted since Make-A-Wish Iowa began.
When he was in pain and exhausted in the hospital, Amy said it was the reminder of the new trailer he would one day use to haul cattle across Iowa that fueled him with hope.
"Our family is so appreciative," she said. "Especially the last hospitalization where Michael came very close to death again. We were able to say Michael, 'Your wish was granted.' That really lifted up his spirits in days he was really down."
Gerb Smith, a Make-A-Wish Iowa sponsor and owner of Smith Home Gallery and Cabinet Work in Dubuque, said he and his wife began attending the Make-A-Wish Iowa gala event about 10 years ago.
Over time, he grew more and more involved in the organization. After hearing Michael's story, Smith knew he had to do something to help.
He spoke with Jennifer Woodley, the CEO of Make-A-Wish Iowa, and said he would take care of any remaining costs of the trailer.
"I earn every nickel," Smith said. "I always want to make sure my money is going to the right cause. I think if you look around and you have your health and all of these great blessings, it's kind of the least we can do. Once I met Michael and the family, it all felt right. I felt like I was really making a difference for him and his family."
Woodley said Michael's wish to have a new trailer not only impacted his life, but those in the community who pulled together to make it all happen.
"A wish not only transforms the life of the child receiving it, but also transforms the lives of the wish family, volunteers, support systems, medical professionals and entire communities," she said. "Our chapter wouldn't be able to grant these wishes at the caliber we grant them without the generous support from our donors."
Michael is anxious to put his new trailer to use.
"I hope to go to a cattle show," Michael said. "I will load the cattle up and get on the road."