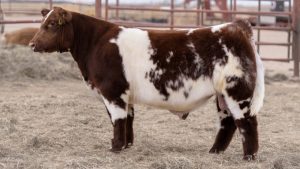 TH FREE • PHA FREE • DS CARRIER sire. PERFECTION dam. DONOR 307 FSF STARBURST X JAKE'S SIERRA 2115 (JAKES PROUD JAZZ) owned by. Phil Lautner & Chance Lautner, Michael McDonough & Daniel McDonough raised by. Mike Mimms DVM sold by. Mike Mimms DVM & Michael Ancira
Great alternative to Perfection at an affordable price. Many who have seen him think he is of equal or better quality than his sire.
TH FREE • PHA FREE breed. 2.94% CHIANINA • reg. 388353 dob. 3/17/14 • bw. 74 LBS.
This bull offers a very unique look up front paired with a big hip and killer look from the side. A TH & PHA FREE bull that has hair like a carrier. Winning is in his pedigree, as his mother is a full sib to the dam of the 2015 National Western Stock show Champion Steer.